Useful Links
The St Mary's Pre-School has joined the Operation Encompass scheme which runs jointly between local early years settings, schools, Surrey Police and Surrey County Council. The scheme ensures early reporting of domestic incidents which have taken place outside of school hours and may impact the child when at their setting. For more information on Operation Encompass please click on the click above.
Information about rhymes and stories can be found at Bookstart.org.uk
As advertised on TV, this site provides ideas for things to make and do, sheets to print and also explains the importance of play.
Surrey County Council information for families with children from 0-19 years.
Parents' Pages is a magazine produced by Surrey Family Information Service (FIS), for parents, grandparents and carers of children aged 0 to 5 years old.
Surrey County Council schools information including admissions policy, transport, meals, term dates.
The UK's largest charity for parents. Information on pregnancy, birth, parenting, plus courses, local branches and helplines.
Free Early Education Two Year Olds (FEET)

Information including who is eligible and how to apply for FEET funding.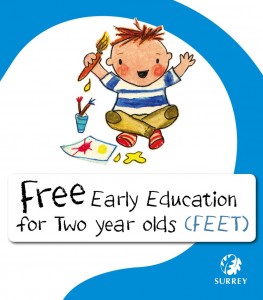 Information and support to encourage Early Years practitioners to talk more to children from birth to age 3. They have a separate website for parents
The Five To Thrive Approach talks about the importance of the behaviour of parents in the first three years of a child's life and central to the approach are the activities of Respond, Cuddle, Relax, Play, and Talk.
Families In The Foundation Years

Information for families with children under the age of 5. Lots of information for the various stages from preparing for parenthood to joining reception class.
The Communication Trust is a coalition of over 50 not-for-profit organisations. Working together they support everyone who works with children and young people in England to support their speech, language and communication.
.
.
********** HEALTHCARE & SAFETY INFORMATION *********

A guide to coughs, colds, earache and sore throats which we have received as part of an information update from Surrey.
How to get enough Vitamin D.
A booklet offering advice on potty training.
Public Health England has issued an urgent alert on bath safety, and especially the use of bath seats.
Advice on how to deal with a head injury including a traffic light warning system.
Advice on how to prevent child accidents.